The following information was taken from an email sent out by the FMCSA in November of 2021. WSTA has published this copy to keep you informed of the drug and alcohol clearinghouse rules.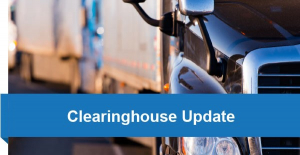 Clearinghouse Rule II
What It Means for State Driver Licensing Agencies
As of November 8, 2021, FMCSA's second Drug and Alcohol Clearinghouse final rule, Controlled Substances and Alcohol Testing: State Driver's Licensing Agency Non-Issuance/Downgrade of Commercial Driver's License; Correction, is in effect. This rule addresses how States will use the information in the Clearinghouse to help ensure that only qualified drivers receive and retain a CDL or CLP. State Driver Licensing Agencies (SDLAs) must be in compliance with the new requirements no later than November 18, 2024.
SDLA Requirements
The Clearinghouse rule II established new requirements for SDLAs. The question and answer below has been added to the Clearinghouse website to summarize the SDLA requirements.
How will SDLAs use the Clearinghouse?
The Federal Motor Carrier Safety Administration's (FMCSA) final rule establishing requirements for SDLAs' access to and use of driver-specific drug and alcohol program violation information contained in the Drug and Alcohol Clearinghouse (86 FR 55718 (Oct. 7, 2021)) requires that:
SDLAs must not issue, renew, upgrade, or transfer a commercial driver's license (CDL), or commercial learner's permit (CLP), as applicable, for any individual prohibited under FMCSA's regulations from performing safety-sensitive functions, including driving a commercial motor vehicle (CMV), due to a drug and alcohol program violation.
SDLAs must, upon receipt of notification from FMCSA that a driver is prohibited from operating a CMV due to a drug and alcohol program violation, initiate the downgrade process to remove the CDL or CLP privilege from the driver's license within 60 days.
Drivers completing the return-to-duty process (RTD) before the downgrade process is completed would no longer be prohibited from operating a CMV and thus would no longer be subject to a downgrade.
Note: If a driver completes the RTD process, or a violation is removed from the Clearinghouse, FMCSA will notify SDLAs that the driver is no longer prohibited from operating a CMV.
As stated above, SDLAs have until November 18, 2024 (compliance date) to comply with these requirements, but continue to have the option to voluntarily query the Clearinghouse to determine whether the driver is prohibited from operating a CMV up until the compliance date.
For more information on the SDLA requirements, including how SDLAs will access Clearinghouse data, contact the Clearinghouse Team.
Questions?
Review the Frequently Asked Questions or contact us.