Two Funding Programs for Compliant Small Fleets Bring Funding Opportunities
By Sean Edgar, CleanFleets.net
CARB Moyer Program Opportunities
At CARB's April Board hearing several provisions of the Carl Moyer Funding Program will result in eligibility for compliant fleets of 10 and fewer trucks to replace an older diesel truck with a 2013 or newer diesel engine. This may be of interest to members that retrofitted or bought 2007 to 2009 engines and are facing a 2020 to 2023 deadline to replace those trucks.South Coast AQMD Funding Opportunities
We recently attended a workshop at the South Coast AQMD (SCAQMD) in which staff explained what they know about how their district will implement the $24 million in near-term funds. A maximum of $60,000 per diesel replacement truck can be given to fleets of 10 or fewer trucks (see Table below). All fleet sizes may apply by the July 11 deadline and there are workshops starting on May 24 and the following two Wednesdays at the time and place below:
Wednesday's, May 24, 31 and June 7, 2017
Time: 9 a.m. to Noon
SCAQMD Headquarters, Room CC-6
21865 Copley Drive
Diamond Bar, CA 91765
Later this summer, AQMD will have a second opportunity for fleets with 10 or fewer vehicles (greater than 14,000 lbs. GVWR) through the On-Road Voucher Incentive Program (VIP).
Please refer to the Western States Trucking Association for our affiliates such as Pacific Enterprise Bank which provides truck financing, as well as SCAQMD's VIP web page at: www.aqmd.gov/VIP fro more information.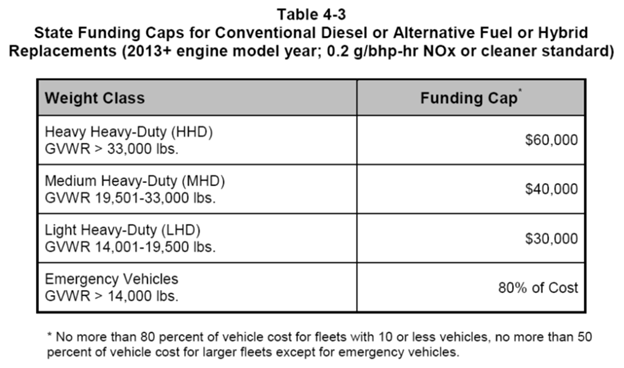 Resources