Introducing Our New Technology Director
As we begin a new year, I wanted to introduce you all to Richard "Rich" Roth (see photo below) our newly hired Technology Director. Rich has worked in the "computer technology" field for over 18 years and has a Bachelor's degree in Computer Science from the University of California, Riverside. He has worked with WSTA and AADT since 2007 as an independent contractor, remotely providing valuable web and database programming as well as other computer-related services.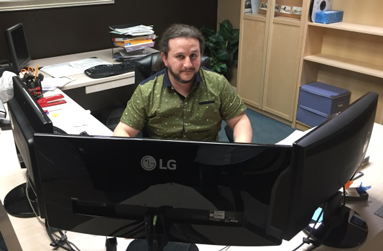 We have created this new position to improve our office technology and management for both the staff and membership. In additional to database programing projects for WSTA, AADT and AAA&C, Rich will also be managing our websites, web-newsletter (soon to come) the Western Transportation News (WTN) magazine, all internal documents, forms, binders etc. and will interface with our contracted IT administers (Accent Computer Solutions). Some of the programs he is now working on include:
Expediting AADT Enrollments "online" and Annual Renewal documents.
Updating all AADT Binder Printing Content for 2016.
Direct Marketing AADT services to New Entrants motor carriers using a DOT database.
WSTA Chapter and EC voting interface to database. This will allow us to move the membership to voting on association affairs utilizing emails and texting and help to move us away from printing.
Create and maintain a secured data exchange interface with our newly endorsed background screening services, Trust But Verify.
AAA&C Document population and data tracking – this is a "major project" that will allow our authority unit to populate authority documents quickly, efficiently and error free and also track upcoming renewal dates for clients who hire us to assist with many back-office functions of being a motor carrier.
Updating and improving all website designs/layouts and functionality.
We will be changing our entire office data management referred to as intranet, which is defined as: "a computer network with restricted access, as within a company, that uses software and protocols developed for the Internet and the secured sharing of corporate information." Rich will be implementing a variety of improvements utilizing SharePoint as a secure place to store, organize, share, and access information and data from almost any device utilizing a web browser.
In addition, we are investigating or enhancing our web-marketing and Google AdWord marketing programs. Recently we met with our IT company's marketing director and she provided us with some great insight into the use and function of some prodigious IT products to enhance our business. These are a few suggestions and ideas generated from our meeting that where very helpful and we would encourage all our members to consider such technology themselves if applicable:
Please note: As of December 17, Jesse Ramirez no longer works for the association. All functions he performed were taken over by Rich Roth on that date.
Also note that we will now be publishing only 6 magazine issues instead of 9 each year as we move more to digital media for our communications.
If you have any questions, please contact me or Rich at
909-982-9898.