Introducing our new program

Call our office for pricing
WSTA/AADT Tire Program Contact
Vivian Mercader
Tire Account Manager
(909) 696-1375
tires@westrk.org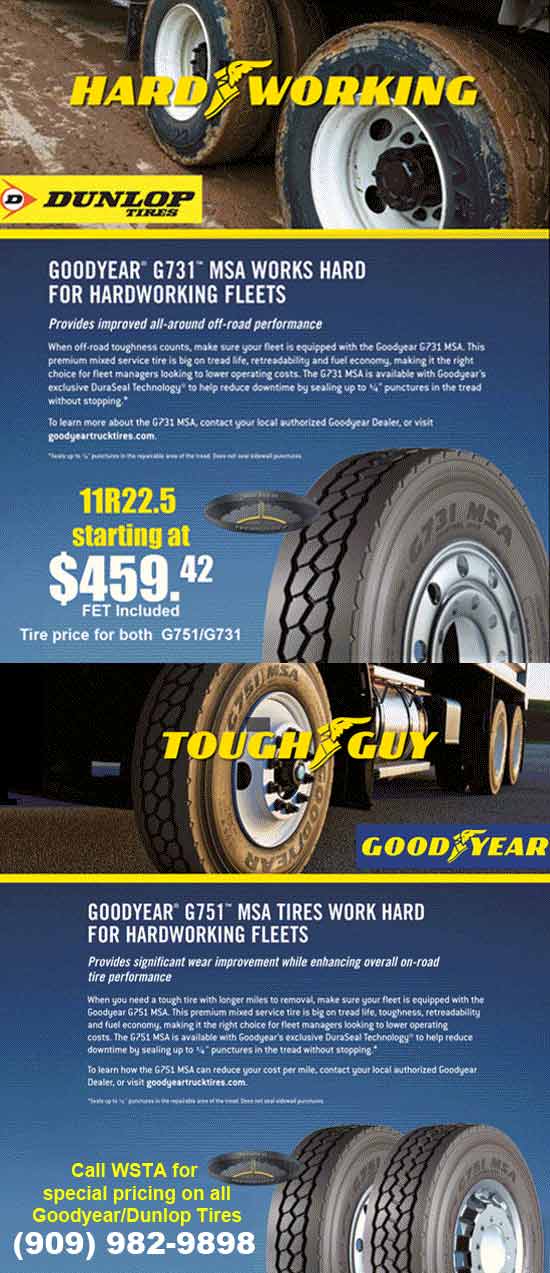 As of June 6, 2014, the WSTA and The Goodyear Tire & Rubber Company have entered into an agreement that will give WSTA members the ability to purchase Goodyear and Dunlop tires at a very competitive price. This will be a great opportunity for WSTA  members to see the benefits and value that a company with more than 100 years of history and innovation can bring to trucking companies of all vocations and sizes. The process that WSTA members will use to buy Goodyear and Dunlop tires is quite simple:
Call the WSTA  to obtain pricing.
Locate an authorized Goodyear commercial tire dealer in your area.
Select what tires you wish to purchase and have the dealer call the WSTA for a Purchase Order.
The dealer will then look up the WSTA member pricing on Tire-HQ and process the request.
WSTA member will then pay at the point of sale with Cash, Check, Credit Card, etc.
WSTA member will receive Goodyear or Dunlop tires at a very competitive price.
Goodyear's Total Package Solution of industry-leading products, best-in-class services and powerful information tools helps trucking companies lower their operating costs – and this includes unique, money-saving technologies like Goodyear Fuel Max Technology and Goodyear DuraSeal Technology.
Available in steer, drive and trail position tires, Goodyear's exclusive Fuel Max Technology uses fuel-saving compounds plus special construction and tread designs, to help reduce tire rolling resistance, which improves miles-per-gallon for savings that you can apply directly to your bottom line.
Goodyear also offers an extensive line of SmartWay-approved tires.