Eighth increase in last nine months; for the year, a slight gain over 2014
The Port of Oakland reported on December 11th that November containerized import volume jumped 8.7 percent from a year ago. It was the eighth increase at the Port in the past nine months.
The Port said that import volume for the first 11 months of 2015 is up 0.4 percent from last year. It termed the performance significant in light of a nearly 40 percent volume decline last winter.
"We're finishing the year much stronger than we started," said Maritime Director John Driscoll. "Our goal now is to keep the momentum up heading into 2016."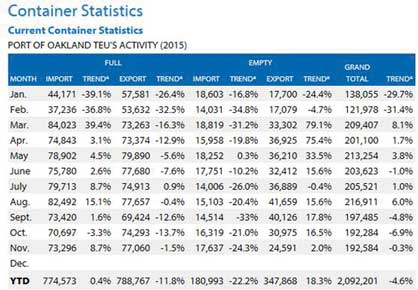 The Port said healthy consumer demand may have been behind November's import increase. Containerized trade volume typically slows at year end as retailers complete holiday inventory buildups.
The Port said export volume declined 1.5 percent last month. Weaker demand in China for U.S. goods contributed to the decrease.
French Shipper CMA to Buy NOL
French shipping company CMA CGM SA has announced it has offered to buy Temasek Holding's shares in Neptune Orient Lines (NOL) for $1.61 billion. CMA is the third largest shipping line in the world. This announcement followed on the heels of an announcement in late November that Maersk was actively seeking an acquisition target and NOL was one target.
CMA is a privately-held family owned company and the combination with NOL is the biggest merger deal in years and expected as a harbinger of future deals. Consolidating the two companies comes as a result of a global capacity glut that has collapsed rates worldwide in part because growth in China has slowed significantly.
NOL President and Chief Executive, Ng Yat Chung blamed the current weakness in freight rates as the main reason for the deal, a deal already accepted by NOL. The inked deal must be approved by regulators from the European Union, the United States, and China.
Mediterranean Shipping: New Demurrage, Detention, and Per Diem Tariff
Shapiro.com has reported that Mediterranean Shipping Company (MSC) announced a new tariff for calculating container demurrage, detention, and per diem effective December 5, 2015 for all U.S. ports.
New tariff changes will apply to both import and export containers equally. Previous to the change, MSC's demurrage and detention arrangements varied by port and terminal throughout the country, while the new tariff will replace inconsistent policies with a standard-level applied throughout the country.
One major change is the termination of the so-called "multi-container rule" that was in effect at certain ports, like Baltimore. In the past, an importer was allotted additional free time at the terminal, per vessel, based on meeting container volume thresholds. This policy will no longer be practiced.
The new tariff is to lengthy to reprint but can be found by entering this link online – www.shapiro.com/assets/MSC-Demurrage-Storage-Detention-Per-Diem-USA-Puerto-Rico-Med_Shipping.pdf
Check-out the New West State Alliance Website
The West State Alliance website has a complete new look and address on the internet. The new URL for West State Alliance is www.weststatealliance.org and the website contains all the information from the old site in a new format.
Port updates, future events, and daily news (which, there is not always something new to post) can all be found on the new site. If you have any suggestions for improvements or additional features you'd like to see incorporated onto the site, contact Joe Rajkovacz at 909-982-9898.