Introduciendo a Nuestro Nuevo Programa

Nos encanta dar a nuestros miembros las opciones para sus necesidades de negocio.
Llame a nuestra oficina para los precios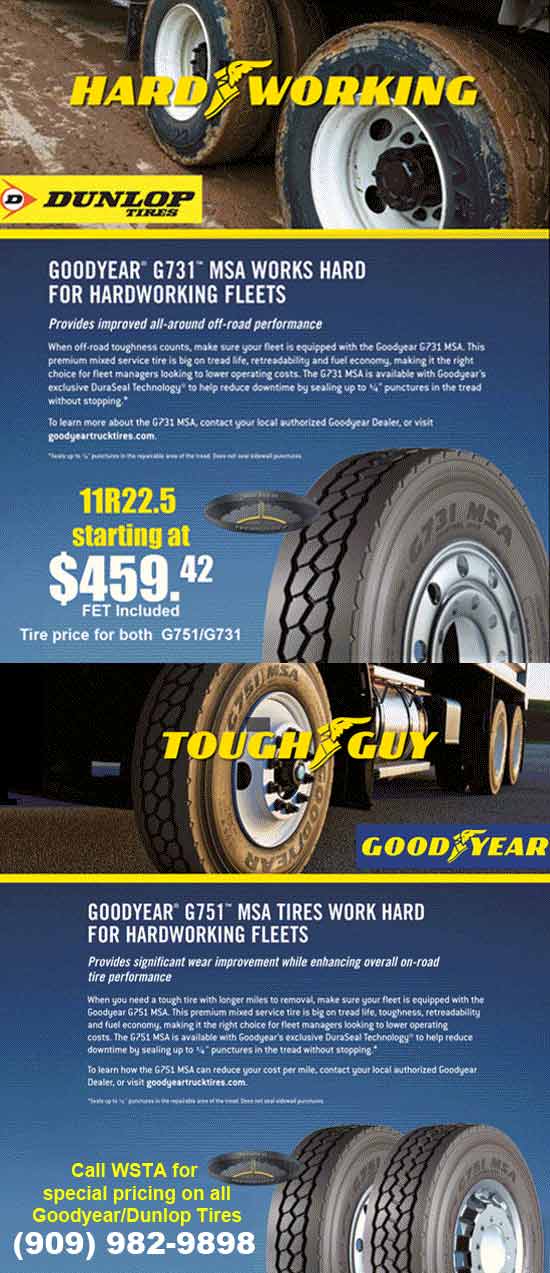 As of June 6, 2014, the WSTA and The Goodyear Tire & Rubber Company have entered into an agreement that will give WSTA members the ability to purchase Goodyear and Dunlop tires at a very competitive price. This will be a great opportunity for WSTA members to see the benefits and value that a company with more than 100 years of history and innovation can bring to trucking companies of all vocations and sizes. The process that WSTA members will use to buy Goodyear and Dunlop tires is quite simple:
Call the WSTA to obtain pricing.
Locate an authorized Goodyear commercial tire dealer in your area.
Select what tires you wish to purchase and have the dealer call the WSTA for a Purchase Order.
The dealer will then look up the WSTA member pricing on Tire-HQ and process the request.
WSTA member will then pay at the point of sale with Cash, Check, Credit Card, etc.
WSTA  member will receive Goodyear or Dunlop tires at a very competitive price.
Goodyear's Total Package Solution of industry-leading products, best-in-class services and powerful information tools helps trucking companies lower their operating costs – and this includes unique, money-saving technologies like Goodyear Fuel Max Technology and Goodyear DuraSeal Technology.
Available in steer, drive and trail position tires, Goodyear's exclusive Fuel Max Technology uses fuel-saving compounds plus special construction and tread designs, to help reduce tire rolling resistance, which improves miles-per-gallon for savings that you can apply directly to your bottom line.
Goodyear also offers an extensive line of SmartWay-approved tires.
Meanwhile, DuraSeal Technology, another Goodyear exclusive, features a built-in tire sealant that instantly seals nail-hole punctures of up to ¼-inch in diameter in the repairable area of a tire's tread, which minimizes expensive downtime and keeps trucks up and running.
The leadership team at the WSTA  recognized these great benefits and that is why they have reached out to Goodyear to put a program in place. The process of setting this program up has been very smooth thanks to the help of Rudy Navarrete, Lee Brown, Jesse Ramirez, and Joe Rajkovacz. I have been very impressed with everyones willingness to move forward so quickly and efficiently. We have tried to tailor this program to meet the needs of every member by providing industry-leading products at the best price. It has become apparent over the past few weeks that the WSTA leadership is constantly seeking out new ways to bring value to its members.
This relationship evolved after one of Goodyear's dedicated dealers attended a local chapter meeting in San Diego, California. Kem Conner from United Tire Centers in Chula Vista heard that the majority of the WSTA members wanted Goodyear and Dunlop tires but could not get them. Rudy Navarrete was quick to act to make sure the members had a program in place to fulfill their needs. From a small chapter meeting in San Diego, a program has emerged to allow WSTA members to purchase Goodyear and Dunlop tires.
The relationship that Goodyear has with WSTA is based on the principle of lowering costs for the organization's thousands of members across the state of California. This will allow members to remain competitive in their local markets by enabling them to compete with larger fleets. I know, that it is the hope of both Goodyear and WSTA that this partnership can continue into the years to come and will deliver industry-leading quality tires at the right price.
Scott Gleason
Fleet Solutions Sales Manager
The Goodyear Tire & Rubber Company
Scott_Gleason@GoodYear.com
(951) 514-8133
This post is also available in: Inglés