"Innovation distinguishes between a leader and a follower." – Steve Jobs.
The International BAUMA Fair equipment show opened in Munich Germany on April 12th. It is held every 3 years in Munich for one week and will draw approximately 500,000 attendees!
On opening day they announced this year's product and idea innovation award winners. I think it is worth a brief look at some of the winners and compare them to the concrete pumping industry.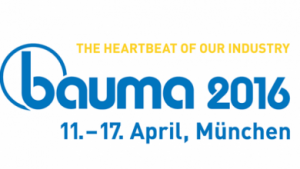 Tadano Crane Company showed an animated design for a hydraulic telescopic crane boom with no boom suspension system. They used two hydraulic boom telescope cylinders attached to a triangular boom with eyelets for the two cylinders and the rope was routed from the bottom up the center of the boom. Very tricky and yet very simple, it will be quite something if it appears as illustrated.
Fabric Crane Rope?
Another company has for sale a fabric based crane rope to replace cable! It is up to 80 percent lighter and therefore could increase lifting capacity up to 200 percent, they claim. It is supported by Liebherr, in addition the rope has multicolored strands and when the red strand appears it signifies replacement. Also the rope has electric conductivity so a meter can be employed to check for broken strands.
Two or three years ago a big hit of the World of Concrete show in Las Vegas was a radio remote controlled concrete trowel. At Munich a vibratory plate was shown with radio remote and a "teach" feature, it would learn the mat and then calculate the most efficient rout to compact the material! No human monitor required.
Rubber tired excavators are designed the same by everyone, they have a high center of gravity so the tires can articulate over the rough terrain. What if you stretched the frame and dropped the excavator body between the wheels? The center of gravity is lowered, operator access is far better, transport height reduced and maintenance and fueling is simplified.
More Shown at BAUMA
A collection of common interest entities is developing a "Genius" operator's cab for many types of equipment. It looks like Lexan or clear plastic for all around visibility. The instrumentation is all heads up like a fighter aircraft, the environment is fully programmable as is the built-in sunscreen. The lights and handgrips illuminate when ambient light lowers, security monitored via the cloud and the cab can withstand a six-ton blow, before any specific exterior ROPS is installed. The features are spectacular.
Concrete industry innovations – a hand held water/cement meter a little thicker than an I-Phone with a probe. It uses radar and the reading is available in one minute! Days and sometimes weeks of delay eliminated and quality assured. Around the world at least half the buildings are made with concrete; it is the second most consumed product in the world, water is first. Research is now being done on 3-D printing (see article about the 3-D printing revolution) with an attachment on a pump tip and special mixes, no form is required!
Unfortunately concrete pump makers are using traditional thinking, traditional materials and traditional carriers and looking to shave a few pounds and bolt on additional axles to beat travel restrictions.
Colored lights and gadgets are not innovations; as Mr. Jobs observed if you are not an innovator you are a follower.