Congratulations to WSTA Member Terry Klenske
It is my honor to showcase one of the WSTA's longtime and devoted members, Dalton Trucking. Over the 75 years of this association's existence many of our members have been recognized with various awards. These awards have covered many areas of the transportation industry from safety to innovative business practices, and charitable activities.
This particular article is dear to me. I have known Mr. Terry Klenske and his beautiful wife for many years. When I show up to their offices as the Membership Services Director for the WSTA, they make me leave my title at the door and except me as part of the family. Their two sons, Matt and Josh and my great friend Al Leon also treat me as part of the Dalton team. That being said, I wrote this article about their latest award for all our readers to enjoy. Congratulations from all of us from the WSTA!
American Truck Historical Society – Harris Saunders Award, May 2016
Terry Klenske, an ATHS member since 1978, received the Harris Saunders Sr. Award at the Forty Fourth Annual Convention and Truck Show of the American Truck Historical Society held in May 2016 at Salem, Oregon. This is only the 13th time this prestigious award has been given since the Society was founded in 1976.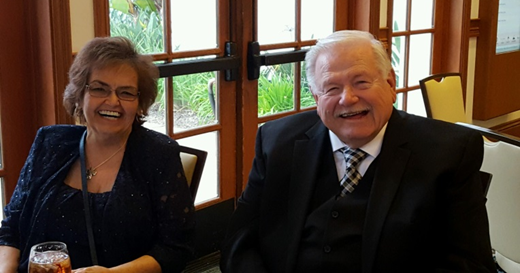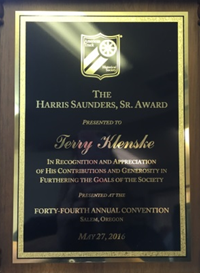 The Harris Saunders Award was developed to honor the founder of the U.S. Truck Historical Society, which eventually merged into The American Truck Historical Society in 1977. Mr. Saunders was a charter member of ATHS, and one of its first life members. In 1977, at the age of 83, Mr. Saunders agreed to serve as the President of the Society, provided the national headquarters were moved from Dearborn, MI, to Birmingham, AL and that a full time executive director was hired. By convincing the Board of Directors to reduce membership dues from $25 to $15 per year, membership soared. Mr. Saunders stepped down as President after two years and was elected to the newly created position of Chairman Emeritus in recognition of his accomplishments for, and continued support of ATHS. This award is to recognize a worthy ATHS member for outstanding achievement during the previous 36 months in furthering the goals of ATHS and for best exemplifying the character and qualities of the late Harris Saunders, Sr.
Truckers Wanted Truck Show & Job Fair
On Sunday, August 14th, I attended the Truckers Wanted Show with Victor Vasquez, WSTA's EC Southern Vice President and our affiliate member Katrina Johnson of WP Commercial Fueling. Our booth was representing WSTA, AADT, Coalition of American-Latino Truckers (Victor is Chairperson of the Coalition) and Katrina worked hard talking to show attendees about WP's fuel discount program available to them by joining the association.
The show proved to be very successful, with a couple of new members signing up on the spot and many strong potential new members. Victor is a natural at talking up the association's advantages and his passion is contagious.  Having Katrina at the booth was a plus, as she explained fuel discounts as part of a membership benefit. She was very engaged with those who stopped by the booth and a total team player. Dr. Marjorie Greene also stopped by the booth and hung out for a while. Marjorie operates Green Light Testing Services and is located in our headquarters building performing DOT physicals and drug testing collection.
We definitely got our 15 minutes of fame when the show announced the winner of our donated $50 Visa gift card. We could hear the crowd cheering as the winner worked her way over to our booth.
Lastly our very own WSTA EC treasurer Kelvin Monzon won Best in show at the Show & Shine completion during the Truckers Wanted. Kelvin and his entourage were very visible at the show, it seemed like every other person was wearing a Monzon T-shirt. Congratulations Kelvin, way to go and thanks for also representing the WSTA.
Action in the Chapters
Please support and participate in your local association chapter. Every chapter has many similar challenges and may also have unique regional issues they are dealing with in the transportation industry. As you are reading your WTN magazine, take the time to read what is happening with other association members. I want to encourage the EC, chapter chairs, directors and regular members to network and communicate with one another. Spread the word and lets' keep growing strong!
Ventura Chapter Meeting, July 9th
On Saturday evening, July 9th the members from the Ventura chapter gathered and had a great guest speaker, Matt Schrap of California Fleet Solutions. Mr. Schrap went over some of the most basic updates from CARB, which most of the group was familiar with. He did inform the attendees of some information about grant opportunities available to some members who qualify.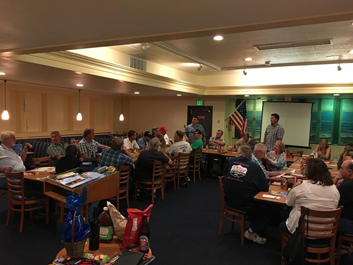 Chapter Chair David Grande is really fired up about growing the membership numbers for the chapter. He has challenged his chapter members to see who can sign up the most new members before October first. The winner will receive two nights free lodging at Caesars Palace to attend the WSTA's 75th Annual Membership and Board meeting (this was voted and agreed to by the chapter members for funds to come from the Ventura chapter). David is also considering doing some fundraising events, maybe a BBQ or bowling night. We hope other chapters will follow his lead. Great job Dave!
Golden Gate Chapter Meeting, July 26th
The newly established Golden Gate chapter met in Fremont on Tuesday evening, July 26th. The folks were very pleased to have two guest speakers. First up was Les Simonson of Clean Fleets. Les is the project manager for CF and has many years of experience dealing the CARB truck and bus rules. He delivered a crash course on CARB update. There were questions about how CARB's drayage truck rule and the Port of Redwood City. This group has some very distinctive trucking issues that deal with the Port of Oakland too.
Our very own Director of Governmental Affairs, Joe Rajkovacz was present also. Joe was able to speak in more detail about some port issues – specifically the new project labor agreement in Oakland. WSTA has taken a lead in talks meeting numerous times with port staff representing our members. Joe also spent some time discussing other subjects such as DIR. Joe did a tremendous job during some Q & A between the members and himself on many topics.
Fred ReCupido was also present to answer questions. Fred is the association's Transportation Advisor. It is fantastic to see Fred reconnecting with an old friend's from the Bay area. Wherever we go, in any part of the state, there are always a few longtime members that are thrilled when they see Fred.  Fred's has a no nonsense approach in discussing issues with members and they seem to appreciate his bluntness. He always makes himself available to our members since he retired and you can reach him on his cell at 760-535-0810.
San Diego Chapter Meeting, July 30th
The men and women from the San Diego chapter got together on Saturday morning, July 30th. The group approved on breakfast being sponsored by their chapter, so all 20 plus guests enjoyed a hardy meal and started the meeting off in great spirits. We were fortunate enough to have two guest speakers who were able to almost team up sharing information.  Mr. Eloy Florez, Air Pollution Specialist with ARB drove down from his El Monte facility in order to bring updates to our San Diego group. Eloy was very pleasant and responsive to the barrage of questions. He did discuss some upcoming financial opportunities that will be available for certain candidates who qualify. The number one issue the truckers are facing in the San Diego area is lack of enforcement. Unfortunately many compliant truckers are still losing work to the renegades who refuse to comply and the contractors just turn a blind eye. Mr. Florez shared the CARB hotline with the chapter members and assured them that CARB was stepping up enforcement.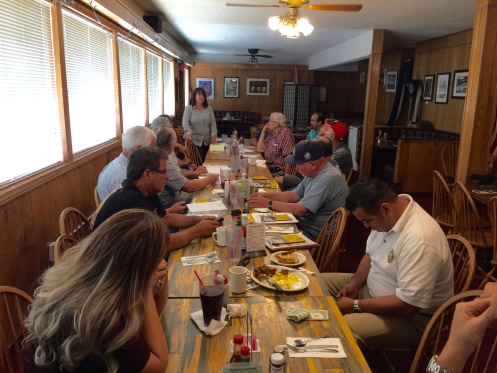 Lisa Grote with Be CARB Compliant jumped in next and was able to pick up where Eloy left off. Lisa has helped many of the local truckers in reporting their one truck or entire larger fleets to CARB. She does her homework by attending CARB seminars and staying in direct communication with the staff from CARB in order to always have the latest updates.  Coincidently, Lisa's husband was a trucker for many years and I believe this gives her the ability to really understand how to work with truck owners.  Lisa is a WSTA affiliate member and we appreciate her.
Chapter Chair Fred Martin and association Director Tommy Williamson are always great at running these meetings but desperately need some younger members to step up into leadership. It's up to each and every active member to get out there and recruit. I will always do my best to help in any way possible.
Calexico/Mexicali Chapter Meeting, August 11th
One of our most unique chapters has to be the Calexico/Mexicali chapter. This chapter is mostly made-up of cross-border trucking companies. Many members are also part of our subdivision, Coalition of American-Latino Truckers.
This meeting was held in Mexicali, Mexico on Thursday evening, August 11th Chapter Chair Jose Rocha is leading the group and has alternated meetings between Calexico and Mexicali to even out the efforts people must make when border crossing.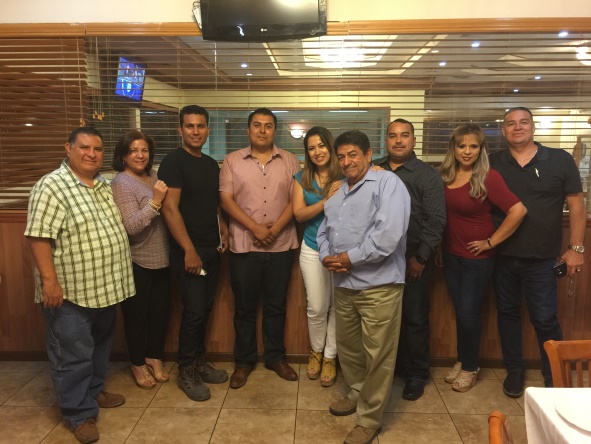 From the very beginning of this regional chapter, we knew the cross border trucking companies are dealing with different issues not encountered by any other chapter.  We've brought value to their membership by holding informative workshops in the border region as well as assisted numerous carriers with regulatory questions. We have saved some of our border region member's significant money by educating them that they were entitled to have a non-expiring motor carrier permit.
Some still face reporting issues related to the CARB truck and bus rule and we have been successful getting them on track, one fleet after another. We have helped with recordkeeping requirements and thanks to affiliates like Clean Fleets when fines have been assessed the have been reduced dramatically, sometimes getting penalties dismissed.