A new publication by the Transportation Research Board of The National Academies of Science is a valuable resource tool for motor carriers engaged in hauling permit loads throughout the U.S. Besides the report, a valuable website was created with interactive mapping detailing specific state-by-state requirements.
The report and accompanying website is titled the Multi-State, Multimodal, Oversize/Overweight  Transportation (NCHRP Report 830) presents a comprehensive compilation and review of existing permitting requirements for the transportation  of oversize/overweight  (OSOW)  freight  throughout  the  United  States.  It identifies  and  presents  information  necessary  to  understand  state-by-state  differences  in  OSOW road transportation regulations and permitting practices, and the challenges these differences pose for carriers. To read or download the report follow this link – http://onlinepubs.trb.org/onlinepubs/nchrp/nchrp_rpt_830.pdf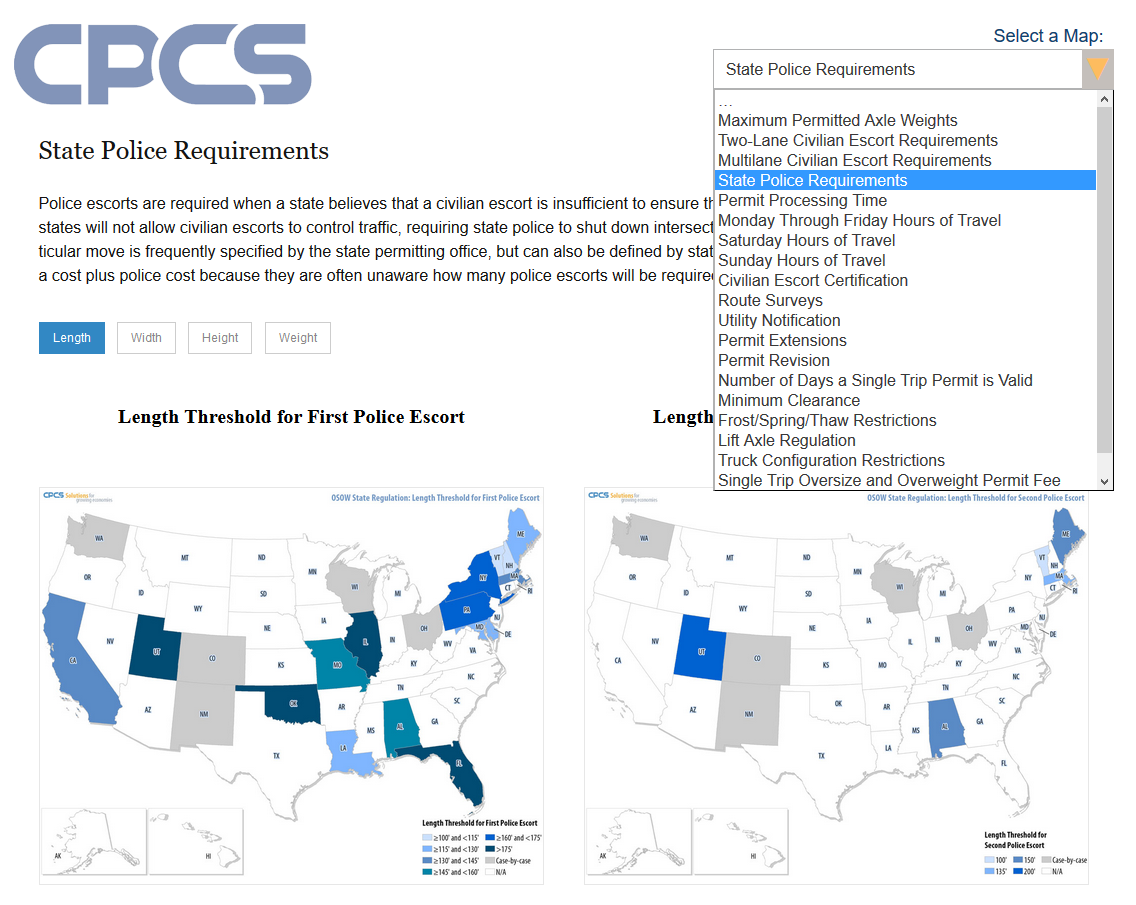 Contractor CPCS, in association with Perkins Motor Transport, Inc., and Portscape, Inc., has put together a practical online procedural guide for identifying and accommodating the diverse permitting requirements for transporting oversize/overweight (OSOW) freight from one jurisdiction to another across the United States. The complexities experienced from one state to another are significant, the different requirements extensive, and the randomness from one jurisdiction to another problematic.
The guide clearly presents extensive information and resources necessary to navigate the inherent difficulties in the most efficient manner possible. Building on these resources, it presents a process that encompasses normal planning steps in response to routine issues involving OSOW freight as well as additional complexities associated with shipping superloads and megaloads. This process addresses four primary components: contracting, application for permits, scheduling, and mobilization. The guide takes the user through all of these steps with information and recommendations on how to maximize efficiency and minimize cost.
The guide also provides access to an interactive website with maps illustrating the variety and range of OSOW regulations across the United States. These maps cover a wide range of regulations and permitting practices, from maximum permitted axle weights, to hours of allowable travel, to permit processing time, to escort requirements, and numerous additional factors affecting travel at every key juncture. It accomplishes this task through case studies and specific examples, illustrating the difficulties any shipper might experience. The guide  concludes  with  a  discussion  of  options  available  to  improve  OSOW  planning  and  implementation along with appendices that inventory the diverse permitting requirements for OSOW transportation by state.
To view the website go to – http://www.osowfreight.com/