The Workers' Compensation Insurance Rating Bureau (WCIRB) has released its 2016 State of the California Workers' Compensation Insurance System with a mixed bag of results.
The report highlights the high cost of California workers' compensation insurance based on premiums paid by insured employers, shows how premium dollars are distributed among various system components, and details cost drivers in the system. The report also contains a brief summary of how post-Senate Bill No. 863 (2012) costs are emerging compared to initial projections.
The bad news about premium rates continues for our readers as they are in the industries which have the highest pure premium rates per $100 in payroll—$9.84 for transportation & utilities and $7.90 for construction.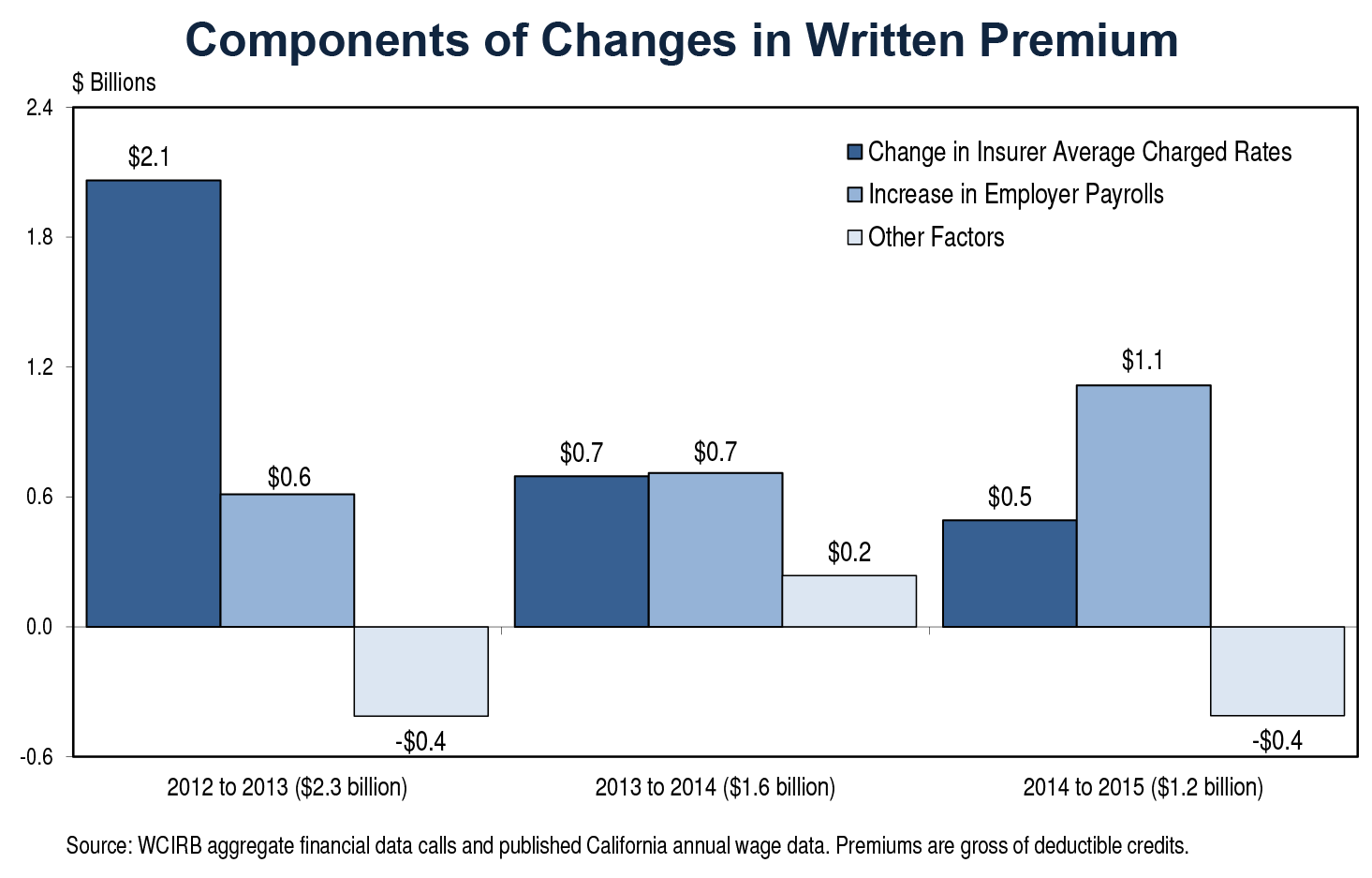 Other findings include:
Growth in California written premiums has slowed compared to that of prior years as insurer rate increases have moderated, while economic expansion has contributed to increased employer payrolls, but still makes up one fourth of all WC premiums written in the United States.
California's insurance rates, which are on average the highest in the country, are largely driven by the greatest frequency of permanent disability claims in the country, high medical costs per claim propelled by a protracted pattern of medical treatments, and much higher-than-average costs of handling claims and delivering benefits.
Recent increases in indemnity claim frequency that are counter to trends in other states are largely driven by increases in the Los Angeles Basin area. After adjusting for regional differences in wage levels and industrial composition, indemnity claim frequency in the Los Angeles Basin area was over 30 percent higher than the statewide average. Comparatively, indemnity claim frequency in the Bay Area was approximately 15 percent lower.
While the difference between California medical costs and medical costs in other states has moderated with recent declines in California average medical severities since 2010, the average California medical benefit per claim remains among the highest in the country with costs more than 60 percent above the countrywide median.
Since enacting SB 863, savings in medical costs resulting from the new physician fee schedule, resource-based relative value scale (RBRVS) physician fee schedule, independent medical review (IMR), and other provisions have more than offset higher-than-projected allocated loss adjustment expenses, resulting in greater overall cost savings than initially forecast.
The full report is available in the Research and Analysis section of the WCIRB website and at: http://www.wcirb.com/content/report-state-workers-compensation-insurance-system .